All-year-round statement living walls
All year round statement living walls by Wonderwall means they are not only for summer… plant up with evergreens, hardy perennials, grasses and houseplants for an indoor and outdoor green wall that can be enjoyed any time of year.
There is no need for garden ground space! Wonderwall is a modular self-irrigating vertical planter system. This means you plant vertical to any surface height and width.
Install on a rooftop, a high-rise balcony, in a bedroom, a dining room, a garage wall, a shed, a greenhouse… anywhere with a vertical surface to reap the benefits a living wall brings.
Living walls don't just look beautiful
Aids better health
Create a calming space to relax, recover and re-energise. Some plants are proven to help with memory, alertness, anxiety and aid a restful night's sleep.
Intimate wellness spaces
Build intimate spaces for privacy and special family celebrations and a happier place that help reduce stress levels for the whole family.
Accessible biophilic gardens
Install at any height to make plants accessible to everyone. Some indoor and outdoor plants improve memory, concentration and anxiety.
Nature's healer
Better general health and wellbeing and help speed up recovery time. Some plants filter harmful toxins and VOCs that can relieve asthma and allergy symptoms.
Look after your home
Cover up unsightly walls. Cool buildings in summer and insulate in winter. They harvest rainwater to help prevent storm water runoff and flooding.
Our environment
Offsets against carbon footprint and lowers urban heat effect. Helps attract biodiversity and provides vital food source for pollinators, and grow your own food.
£39.99
Starter Kit
4 planter sets
covering approx 0.32m2
includes 2x FSC battens
and fixing kit
£135.00
Medium Kit
14 planter sets
covering approx 1m2
includes 6x FSC battens
and fixing kit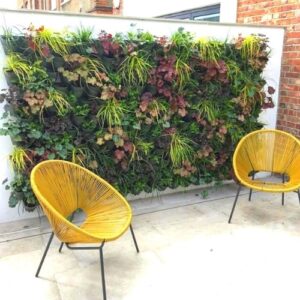 £215.00
Large Kit
32 planter sets
covering approx 2.3m2
includes 16x FSC battens
and fixing kit
Veganism is one of the fastest growing lifestyles trends this year and many Brits are choosing a plant-based diet. With the price of food rising, many are taking to their gardens to provide delicious edibles. Easy to grow vegetables, salads, and herbs suitable for growing in small spaces such as vertical wall planters and patio containers are set to rise.
Growing edibles at home has never been so simple… Introducing our environmentally friendly, no tools, no experience, no fuss seed pods. Each biodegradable pod provides the pre-sown seeds with a protective environment to help them germinate safely. Only four simple steps to follow!