Description
4 planter sets
Made from 99% recycled material. Each planter set houses three 1L potted plants.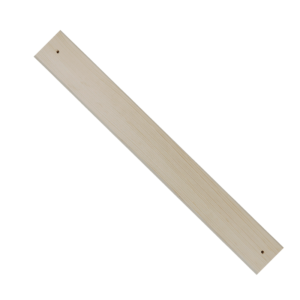 2 battens
FSC-certified battens fabricated from treated wood. They are not needed on every surface.
2 water plugs
Plugs are used to stop water flow within the living wall itself, above paving, or inside.
Fixings
We supply planter set and batten plugs and screws. Wire fence will require cable ties.
Kit specifications
Assembly required: Yes
Surface coverage: 0.3m2
Planter set size: 48 (L) x 18 (D) x 16.5 (H) cm
Planter set weight when empty: 0.4kg
Planter set weight with water and potted plant: 4kg
You
Filters VOCs and dust. Benefits mental wellbeing. Reduces anxiety. Strengthens concentration. Improves workplace health.
Your home
Increases property value. Buffers rainwater runoff. Extends fascia lifespan. Helps meet planning criteria. Insulates and cools.
Biodiversity
Promotes biodiversity. Restores habitats/nests. Aids endangered species. Helps pollinators survive. Grows eco-friendly food.
Our environment
Carbon emissions are offset. Filters the air and publicises environmental messages. Reduces storm water runoff. Makes urban microclimates.
Which plants are best for an all year round green wall?
Hardy perennials are best for an evergreen living wall. Succulents, alpines, edibles, houseplants, seasonals, and others are suitable. But keep in mind, only choose plants that are right for their environment.
Can I add another sized kit to this kit after I have installed it?
Yes. Due to the modular nature of this kit, you can start small and expand at any stage. The more planter sets you add, the bigger your impact on climate change and biodiversity will be.
How do I calculate what size of living wall kit to order?
Length x height of your vertical surface will determine the size and quantity of required.
Example: You have a fence that measures 5m x 2m = 10m2
For large project, our 2.3m2 kits are the most cost-effective kit to purchase.
What is provided in each kit box?
Each living wall kit has planters, battens, water plugs, and fixings. Depending on the surface, you will require simple tools. Our kits do not include plants or plant pots.
Starter kit: 4 planter sets, 2 battens, 2 water plugs and fixings
1m2 kit: 14 planter sets, 6 battens, 4 water plugs and fixings
2.3m2 kit: 32 planter sets, 16 battens, 16 water plugs and fixings
Best watering methods for the living wall?
You can water it by hand with a watering can or hose from each planter set on the top row, and the water will flow to the bottom. Or put in a micro drip kit for timed water doses.
Note: Planter set reservoirs should not always be filled with water. During the warmer months, once a week is enough, and during the cooler months, even longer. If the soil feels dry, give it a dose.
How do I plant a Wonderwall?
Please do not plant directly into a planter. If you were to do this, the filters will block the irrigation system which may result in plants drowning or dying of thirst. The great thing about using potted plants in our system is you can change a planting scheme by simply removing a pot and relocating to another location, or take them indoors to harvest. We recommend using 11-13cm diameter x 10cm(H) or 1L potted plants, a standard garden centre sized pot.
What size of potted plants or plant pots do I need?
Dimension for each plant pot is 11-13cm or 1 litre. Please ensure they have drainage holes in the bottom to take on water.
Want to culture your own plants? Garden Futures sell the perfect sized pot on their website. Size option: 1L (13cm) https://www.futuregarden.co.uk/round-pots 
What size are the wooden battens?
The size of the wooden battens supplied in our Wonderwall kit is: 46cm (L) x 2.5cm x (H) 5cm (D). They are 2cm shorter than the planter.
What size is a single Wonderwall planter set (3-pockets)?
Planter dimension is 48cm(L) x 18.5cm(W) x 16cm(H). When one is stacked on top the planter dimension changes slightly to 48cm(L) x 18.5cm(W) x 13.5cm(H).
How do I protect seasonal plants during winter?
To protect your plants that are susceptible to frost (less hardy), we recommend you cover your plants using a 'garden fleece'. Using a garden fleece can help provide protection in a number of ways: Frost and winter protection, wind resistant and adverse weather conditions such as hail, rain, heavy winds etc, raises temperatures and humidity under the cover, and protection from birds and insects. To purchase a garden fleece, you could either search online or visit your local garden centre.
Who will deliver my order and when will I receive it?
Our standard delivery is 3-5 working days and we use DHL. You will be provided with a tracking number so you can manage your own delivery day and time (subject to DHL's terms and conditions).
What are water plugs used for?
The black water plugs are for instances when you want to block off waterflow (bottom row of planters) if your Wonderwall is located over a paved area, indoors for example. If your Wonderwall is located over soil, you will not need to use the water plugs.
Sustainability
Priority is given to our approach to ethical sourcing. Core parts made from 99% recycled and FSC materials.
Returns and refunds
We care
Michelle loves to deliver smiles. Contact her if you have any questions or need assistance. We love to help.
FREE shipping
FREE UK mainland only. International quotations available. DHL 3-5-day tracked shipping service.