Description
Set of 4 planters x8
Made from recycled material. 100% recyclable. Green and weighs 410g per planter.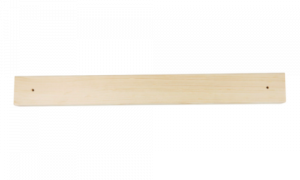 Wooden batten x16
FSC treated wooden batten. 100% reusable. Natural and weighs 280g each.
Water filters x64
Made from PP. Not recycled everywhere. Black and weighs 2.5g each.
Water plugs x16
Made from PP. Not recycled everywhere. Black and weighs 3g each.
Batten fixings x32
PP rawl plug and steel screw. Not recycled everywhere. Weighs 7g each.
Planter screws x48
Made from steel. Not recycled everywhere. Weighs 3g each.
Did you know living walls work hard too?
Here are some of the key jobs they can do...
Aids better health
Create a calming space to relax, recover and energise. Some plants help with memory, alertness and aid a restful nights sleep.
Intimate wellness spaces
Create intimate spaces for privacy and special family celebrations. A happier place to help reduce stress levels for the whole family.
Accessible biophilic gardens
Install at any height to make plants accessible to everyone. Some indoor and outdoor plants improve memory, concentration and anxiety.
Nature's healer
Better health and wellbeing and help speed up recovery time. Filters toxins and VOCs to relieve asthma and allergy symptoms.
Look after your home
Cover up unsightly walls and regulate indoor temperatures. Harvest rainwater to help prevent storm water runoff.
Our environment
Offsets against carbon footprint. Helps attract biodiversity and provides vital food source for pollinators, and grow your own food.
Features
each image flips to reveal a feature
Built-in self-irrigating living wall system
Connect to a hose pipe, irrigation drip kit or use a watering can to water from the top, then listen to the water cascade to the bottom.
Made from recycled material and recyclable
Without compromising the integrity of the system, we have responsibly sourced each part, and that includes the packaging.
FSC treated wooden battens
Each batten has been responsibly sourced from FSC approved suppliers and have been heat treated so they are ready for install.
A how to use guide with a difference...
An instruction guide that includes useful hints & tips and explains how living walls improve your health and well-being.
Grow your own edibles vertically...
Strawberries are set to be extinct in 25 years, grow your own vertically as well as other fruits that don't require much space.
All year round statement living walls
Evergreens and hardy plants are perfect way to create an all year round statement living wall in conservatories and outdoors.
Suitable for budding gardeners
A Wonderwall is the perfect way to introduce gardening to your family and friends, it is easy to use and user friendly.
Keen horticulturalist's love it too
The system is modular so you can start small and expand over time. Perfect for vertical allotments and instant hedges.
Houseplants make amazing wall art
Install a biophilic living wall in any room in your home to increase your general health and wellbeing. Amazing!
Herb gardens take up no ground space
Grow your own herby ingredients indoors or outdoors. Harvest fresh basil, coriander and more without the price tag.
Disclaimer and quality control
Please note that the planting schemes are for demonstration purposes only, plants are not included. Some inspirational ideas may require more than one kit.
Every part has been responsibly sourced and where possible recycled material has been used.
Frequently asked questions...
How do I water my Wonderwall?
Using a hose pipe, irrigation drip kit or watering can, fill EMPTY planters with water from the top row until all the planter reservoirs are filled. The reservoirs hold enough water to ensure the potted plants have access to water/feed. When the soil feels dry to the touch, top up the planters using your chosen method.
How do I plant a Wonderwall?
Please do not plant directly into a planter. If you were to do this, the filters will block the irrigation system which may result in plants drowning or dying of thirst. The great thing about using potted plants in our system is you can change a planting scheme by simply removing a pot and relocating to another location, or take them indoors to harvest. We recommend using 11-13cm diameter x 10cm(H) or 1L potted plants, a standard garden centre sized pot.
What size of potted plants do I need?
Dimension for each plant pot is 11-13cm or 1 litre. Please ensure they have drainage holes in the bottom to take on water. 
What size are the wooden battens?
The size of the wooden battens supplied in our Wonderwall kit is: 46cm (L) x 2.5cm x (H) 5cm (D). They are 2cm shorter than the planter.
What size is a single Wonderwall planter (3-pockets)?
Planter dimension is 48cm(L) x 18.5cm(W) x 16cm(H). When one is stacked on top the planter dimension changes slightly to 48cm(L) x 18.5cm(W) x 13.5cm(H).
Are your living wall suitable for all year round?
Wonderwall is an all year round statement living wall. Plant with evergreens, hardy perennials or install indoor with houseplants for a biophilic wellness wall for all the family. 
How do I protect seasonal plants during winter?
To protect your plants that are susceptible to frost (less hardy), we recommend you cover your plants using a 'garden fleece'. Using a garden fleece can help provide protection in a number of ways: Frost and winter protection, wind resistant and adverse weather conditions such as hail, rain, heavy winds etc, raises temperatures and humidity under the cover, and protection from birds and insects. To purchase a garden fleece, you could either search online or visit your local garden centre.
Who will deliver my order and when will I receive it?
Our standard delivery is 3-5 working days and we use DHL. You will be provided with a tracking number so you can manage your own delivery day and time (subject to DHL's terms and conditions).
What are water plugs used for?
The black water plugs are for instances when you want to block off waterflow (bottom row of planters) if your Wonderwall is located over a paved area, indoors for example. If your Wonderwall is located over soil, you will not need to use the water plugs.