Aids better health
Create a calming space to relax, recover and re-energise. Some plants have been proven to help with memory, alertness and aid a restful night's sleep.
Intimate wellness spaces
Build intimate spaces for privacy and special family celebrations and a happier place that help reduce stress levels for the whole family.
Accessible biophilic gardens
Install at any height to make plants accessible to everyone. Some indoor and outdoor plants improve memory, concentration and anxiety.
Nature's healer
Better general health and wellbeing and help speed up recovery time. Some plants filter harmful toxins and VOCs that relieve asthma and allergy symptoms.
Look after your home
Cover up unsightly walls and regulate indoor temperatures. Harvest rainwater to help prevent storm water runoff.
Our environment
Offsets against carbon footprint. Helps attract biodiversity and provides vital food source for pollinators, and grow your own food.
£39.99
Starter Kit
4 planter sets
covering approx 0.32m2
includes 2x FSC battens
and fixing kit
£135.00
Medium Kit
14 planter sets
covering approx 1m2
includes 6x FSC battens
and fixing kit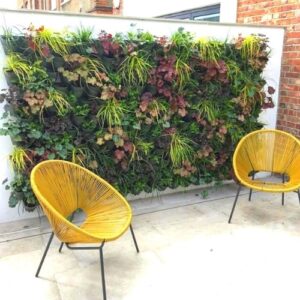 £215.00
Large Kit
32 planter sets
covering approx 2.3m2
includes 16x FSC battens
and fixing kit