by USP Creations
Wonderwall is a brand name for USP Creations (Unique Spaces for Plants) Ltd's living wall system. Lancashire based USP Creations have been promoting health and wellness solutions since 2016. USP Creations is a Unique Spaces for Plants product solutions company run by a team of specialist horticultural sector experts and attentive customer relationship managers. USP Creations believes in the ability and reliability of all products and services and delivery of its after sales support.
Managing Director, Richard McKeever has over 20 years' horticultural supplier and garden centre marketing experience. He has a strong reputation as a trusted supplier of superior plant products and as an innovator and designer of new outdoor living market trends. During Richard's career he has won multiple flower show accolades including Chelsea Flower Show; Southport Flower Show; and many others.
Maybe you have seen Wonderwall on TV. It has featured on Love Your Garden, Love Your Weekend, and Lorraine more than once. Presenters love the modular living wall so much they request it again and again.
How To Install Your Wonderwall
a simple guide
For illustration purposes we have used a fence for our installation instructions. Wonderwall can be attached to many other types of surfaces such as a wall, balcony, shed, furniture, roof etc. The instructions below are only a guide – Wonderwall is modular which means you can install them in any formation.
Step 1: Surface preparation
Check the surface is sturdy, and clear of debris. Measure and mark up locations for 1st batten (step 3) and 2nd batten (step 4).
Step 2: Planter preparation
Insert 2x water filters into every planter, except the bottom planter. Place 2x water plugs into the bottom planter if used for interior or to stop waterflow when needed.
Step 3: Attach the battens
Using the rawl plugs and batten screws, attach the bottom batten to your surface area. To make sure it is secure, give it a tug then attach the second batten 35cm above the first batten.
Step 4: Attach bottom planter
Water filters inserted (see Step 2)? Attach first planter to bottom batten using 3 x planter screws. Give it a tug.
Step 5: Stack and secure
Cover up unsightly walls and regulate indoor temperatures. Harvest rainwater to help prevent storm water runoff.
Step 6: Going wider or higher?
If you are installing a wider or higher wall, repeat steps 3-5 until you cover the desired surface area. IMPORTANT: The very top planter must be secured to a wooden batten.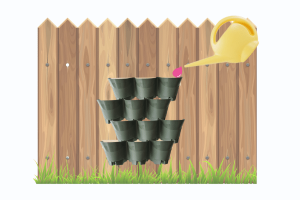 Step 7: Water the planters
Using a hose pipe or watering can, fill EMPTY planters with water from the top row until all the planter reservoirs are filled.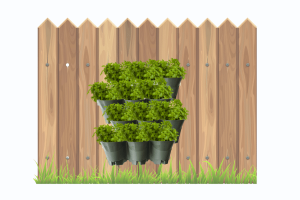 Step 8: Time to get creative
Drop your chosen POTTED plants into each planter and push down. Want to change your design? Simply remove the plant and relocate.
Got any leftover planters?
You could create another living wall (indoors or outdoors) in another location or gift them to friends and family.
Veganism is one of the fastest growing lifestyles trends this year and many Brits are choosing a plant-based diet. With the price of food rising, many are taking to their gardens to provide delicious edibles. Easy to grow vegetables, salads, and herbs suitable for growing in small spaces such as vertical wall planters and patio containers are set to rise.
Growing edibles at home has never been so simple… Introducing our environmentally friendly, no tools, no experience, no fuss seed pods. Each biodegradable pod provides the pre-sown seeds with a protective environment to help them germinate safely. Only four simple steps to follow!